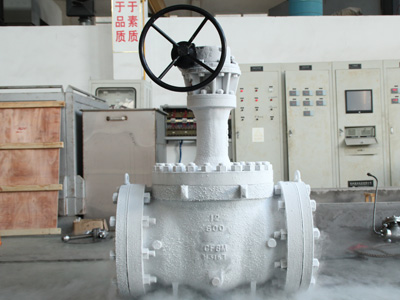 Cryogenic Valves refer to valves that could be used in low temperature condition, usually the valves will be treated as Cryogenic Valves when the working temperature will be lower than -40 Deg C. Cryogenic Valves is often used in Oil Gas, Air Separation, Natural Gas industrial, etc, the quality determines that if it could work safety, economic, continuing. With the development of the modern technology, the Cryogenic Valves demands are more and more increased and the use ranges are widely enlarged.
For temperature that above -50 deg c, generally do not use extended stem, for temperature that below -50 deg c, the stem extension length is depending on the specific temperature. The Cryogenic Valves is mainly for transmitting the low temperature medium like ethylene, Liquid oxygen and liquid hydrogen , liquefied natural gas , liquefied petroleum, etc, not only will easily get explosion and inflammable, but also will get gasify when temperature arises, when gasify, the volume will swell for hundreds of times.
The Cryogenic Valve material is very important, if not right, will lead to the body shell and sealing face leaking inside and outside, the spare parts' comprehensive mechanical ability, strength and hardness are not qualified, will cause fracture. If the liquid natural gas leakage, it will explode. So during the design and manufacture of Liquefied natural gas ( LNG ) valve, the material is the primer problems. The body and Bonnet could be made of LCB (-46 Deg C), LC3 (-101 Deg C), CF8 (SS304) (-196 Deg C).
The Cryogenic Valve with extended stem structure, it aims at reducing the heat that enter the valve from outside; and also keep sure the packing gland temperature are above 0 Deg c to keep sure the packing do not get affected; Finally, it could avoid the stem and the parts above the bonnet getting frozen or frosting by the packing temperature lowering.
The design for cryogenic valves is mainly for the stem extension design – L , the L is from the bottom of packing to back seat surface, it depends on the materials' Coefficient of thermal conductivity , thermal conductivity area and surface coefficient of heat transfer , heat dissipation area, the calculating process are very complex, generally it is worked out by experimentation.
The Cryogenic Valve working condition are very severe, the medium usually are easily inflammable , with strong permeability, the lowest working temperature could get – 260 Deg C, the max working temperature could get 10 Mpa. In this case, the design and manufacture, inspection for cryogenic valves generally have big difference with the forged ball valves, buried ball valves, metal seated ball valves, etc.